Information to our visitors
Starting from Monday, August 28th, the construction of our new visitor centre will begin. 
Throughout the construction period, the museum will remain open to our visitors. 
It's important to note that there will be a limited number of parking spaces available at the museum. We kindly request that you use public parking options nearby. 
We sincerely appreciate your patience and understanding regarding any inconvenience this situation may pose.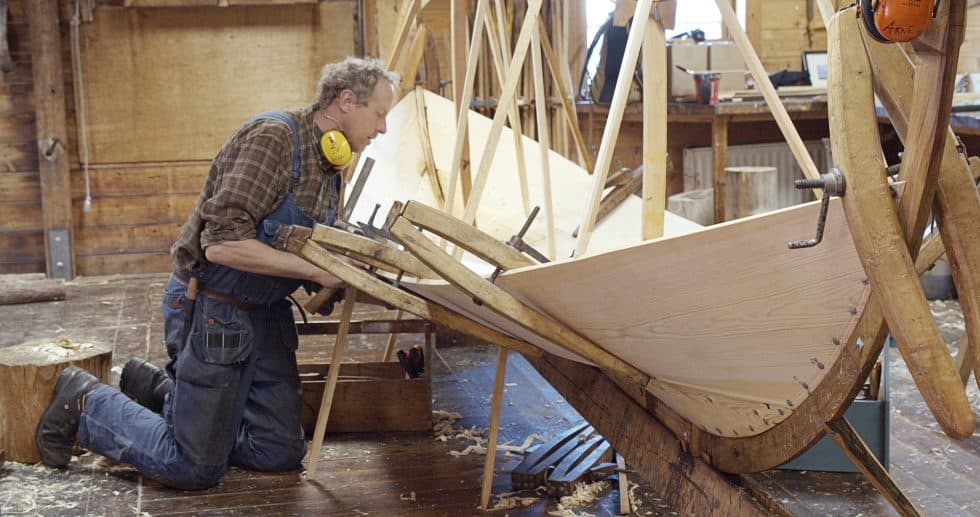 Welcome to Hardanger Maritime Centre
Open workshops – maritime activities
Hardanger Maritime Centre is a national maritime centre and museum.
It is the biggest centre on restoration of boats and vessels in the Nordic countries.
Summer 2023!
We are now open every day, from 10 am -3 pm!
From June 17th. – Sept. 3rd. we are open every day of the week, 10 am – 5 pm
(we are also available for tours and group bookings outside regular opening hours – contact us for bookings).
Prices
Adults: 115 NOK
Kids/students:  65 NOK
Family: 260 NOK
Traditional maritime crafts
As a visitor, you are welcome to walk around the area, see craftsmen working, and visit the workshops. We have a small boat workshop, a smithy, a ropewalk, and  a slipway with bigger restoration projects.
Family friendly  activities
Our focus is on activities – and if you're a family, you can easily spend hours at our museum, making rope, wooden toy boats, rowing, and watching crafts videos.
Find us
Our museum is situated in the beautiful Hardanger region, a little more than an hour drive from Bergen.
If you arrive by bus, the museum is a 5 minute walk along the fjord, from the Norheimsund terminal.
Visiting address: Sandvenvegen 50, 5600 Norheimsund
By boat/GPS: Coordinates 60.365845834   / 6.1482238769 long
Contact info:
Postal address:
P.O. Box 53, NO-5600 Norheimsund
Tel.: (+47) 474 79 839
Email: fartoyvern@hvm.museum.no
Org. no 987 927 704