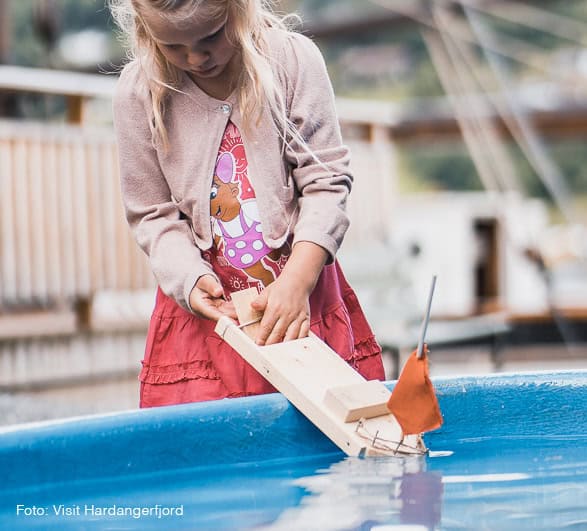 Welcome to Hardanger Maritime Centre
Open workshops – maritime activities
Hardanger Maritime Centre is a national maritime centre and museum.
It represents one of the biggest centres on restoration of boats and vessels in the Nordic countries.
Opening hours fall / winter

Tuesday – Friday: 10am — 2pm

Welcome!
Traditional maritime crafts
As a visitor, you are welcome to walk around the area, see craftsmen working, and visit the workshops. We have a small boat workshop, a smithy, a ropewalk, and  a slipway with bigger restoration projects.
Family friendly  activities
Our focus is on activities – and if you're a family, you can easily spend hours at our museum, making rop, wooden toy boats, rowing, and watching crafts videos.
Summer season (medio may-august)
In the summer we are open every day of the week, 10 AM – 4 PM
(we are also available for tours and group bookings outside regular opening hours – contact us for bookings)
Prices
Adults: 110 NOK
Kids/students:  60 NOK
Family: 250 NOK
Find us
Our museum is situated in the beautiful Hardanger region, a little more than an hour drive from Bergen.
If you arrive by bus, the museum is a 5 minute walk along the fjord, from the Norheimsund terminal.
Visiting address: Sandvenvegen 50, 5600 Norheimsund
By boat/GPS: Coordinates 60.365845834   / 6.1482238769 long
Contact info:
Postal address:
P.O. Box 53, NO-5600 Norheimsund
Tel.: (+47) 474 79 839
Email: fartoyvern@hvm.museum.no
Org. no 987 927 704