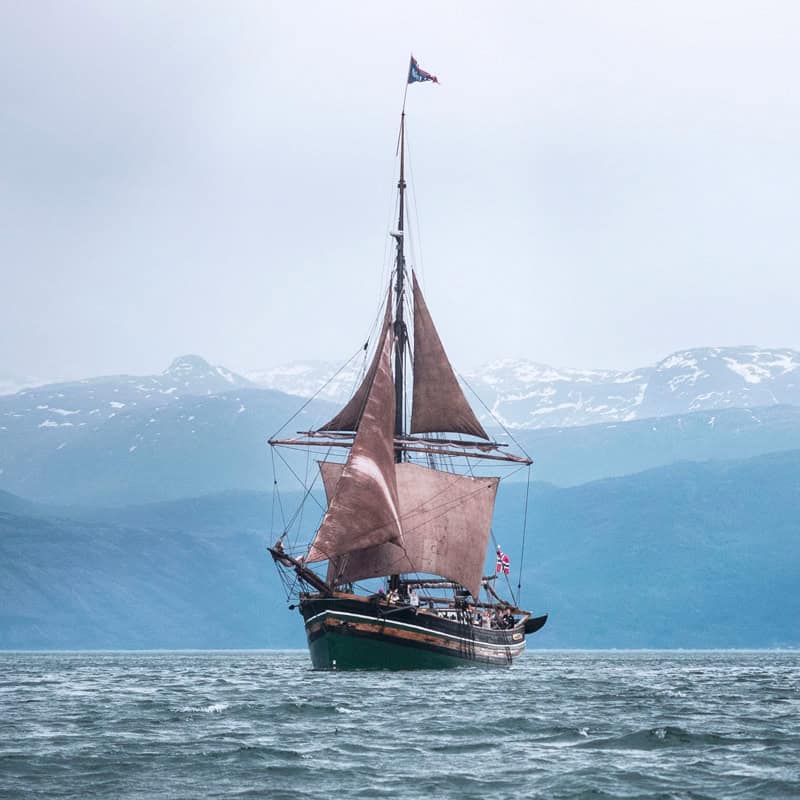 On board the majestic S/J Mathilde, dating back to 1884, you are guaranteed to have many unique and memorable experiences. Learn how to tie the sailors' knots, sleep in a hammock, and set the sails together with our friendly crew. Setting the sail? Well, that would be a mainsail, three stay sails, two raw sails, two "snippets" and a top sail, all in natural fibres.
There is nothing like sailing a ship like this, through one of the most beautiful landscapes in the world.
Welcome aboard!
>>> Check out where Mathilde is now
A selection of sailings
Choose between family sailings, girls`sailings, open sailings, and coastal safaris. Most of the sailings require no prior knowledge. All you have to do is to join in and contribute according to ability. Sailing schedule is set from year to year.
Charter a boat with soul
Mathilde can also be chartered for shorter and longer trips, like weddings, family reunions, team building etc. You are guaranteed a unique experience, regardless of the weather. Tell us what you need, and we will help tailor the perfect schedule for you.
Summer and school camp trips
For 12 weeks during spring, early summer and autumn, Mathilde sets sail with school classes. These trips give the children a real experience of coastal culture. The pupils live together from Monday to Friday in a confined space and are given lots of exciting challenges.
Facts about the boat
Maximum number of people on board:     50
Maximum people staying overnight:          28
Crew and catering:
– Skipper
– Bestmann
– Cook
– Light Sailor
Note: Due to corona regulations, Mathilde may not have the usual capacity.
For more information and booking, please contact us at mathilde@hvm.museum / Christel: 926 48 164
The history
Mathilde was built by a local boatbuilder here in Hardanger and was launched in 1884. Hardanger is famous for the boatbuilding community and their handcrafting skills. Mathilde is a fine example. The new vessel was put into operation in the northern trade, purchasing cod in Lofoten and Finnmark, then selling it salted and dried in Kristiansund and Bergen.
The years went by, she changed owners and location, and she was modernised. She was even called by a different name, Kari Louise, for some time. But in 1984 she was purchased by the newly established Hardangerjakt foundation in Norheimsund.This foundation made it their priority to give her a new life, by repairing and restoring her back to her former glory as a sailing vessel. In many ways she was the starting point of what is Hardanger Maritime Centre today.
After her restauration, people arrived with their boats, wanting the same treatment. In 1989, she was put into all-year operation on a programme of summer trips, school camp trips and museum trips. More than 30 years later she still is.
See a short clip from our restoration work on Mathilde from the late 1980s below: