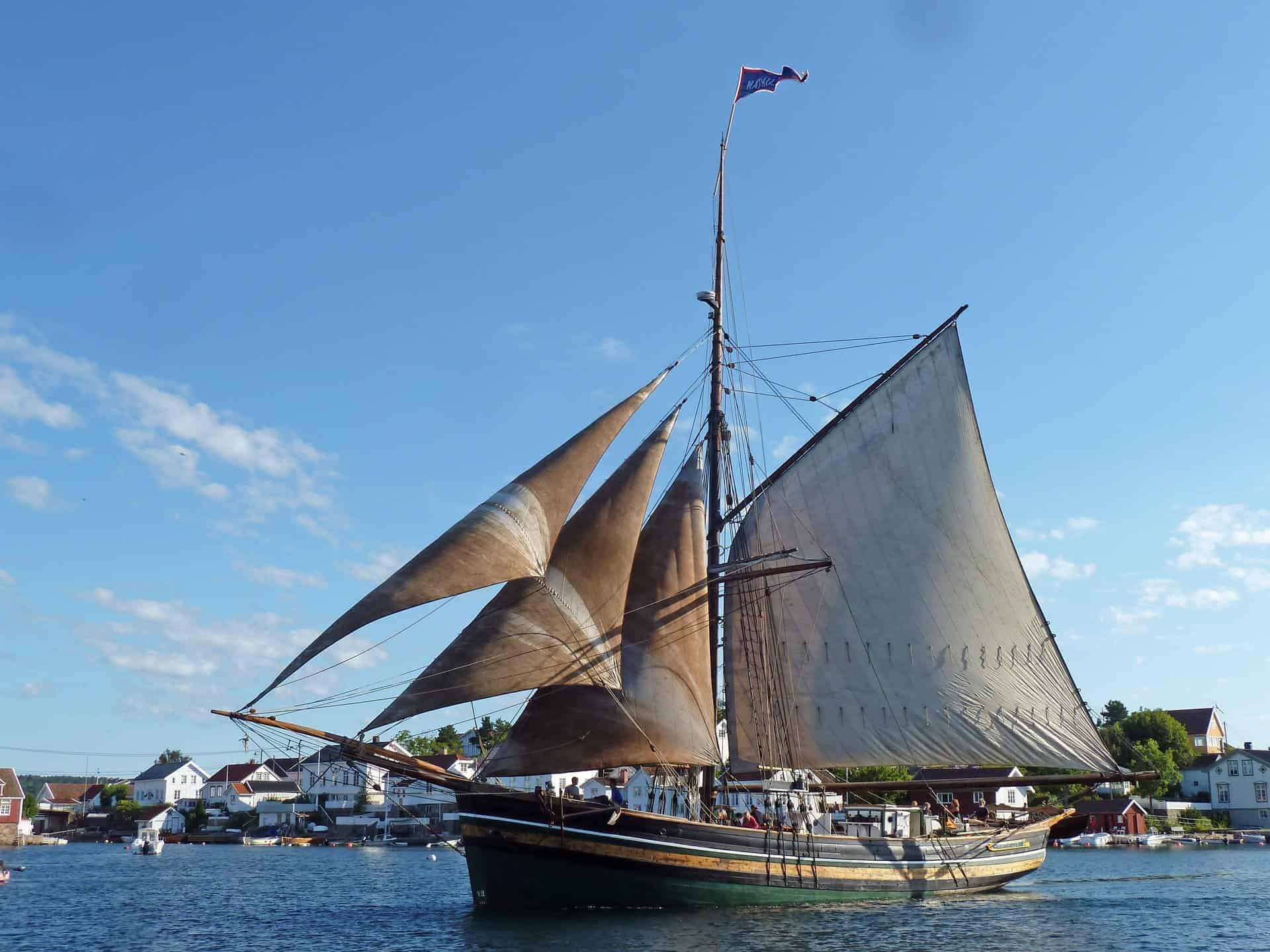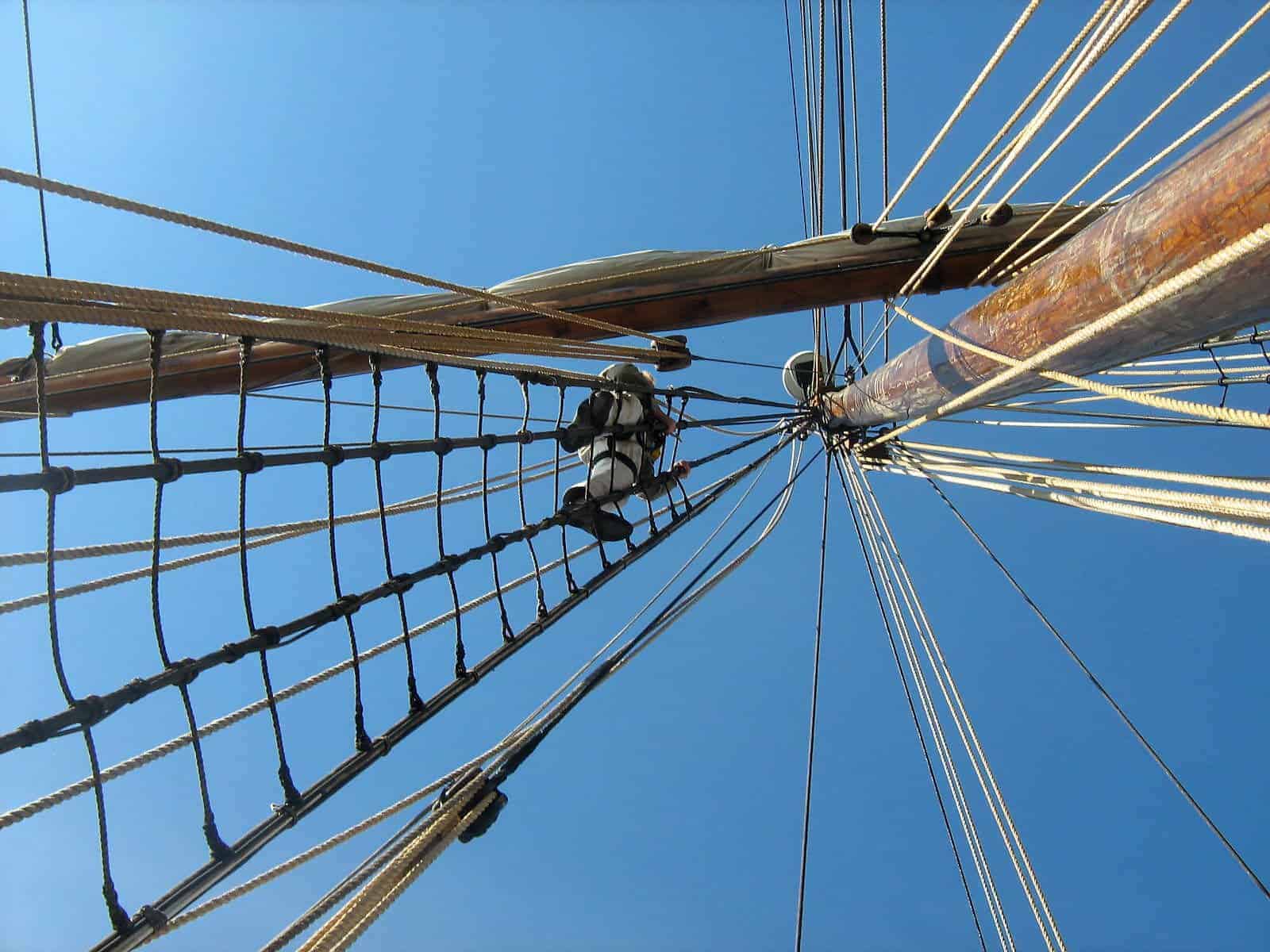 The elegant S/J Mathilde is well worth a visit! On board this proud queen of the sea, you get to meet the captain who knows everything there is to know about this venerable wooden vessel. If you set sail in her, a multitude of experiences await you. When the crew, including you, hoists all the sails, you can enjoy the view of the mainsail, three staysails, two square sails, two 'snipper' sails, and one topsail – all made from natural fibres.
If the conditions are right, you will feel how the wind propels the 70-tonne vessel along at a speed of up to 11 knots.
Come and experience how great life at sea is in all kinds of weather!
Summer and school camp trips

Mathilde has a busy schedule, particularly during the summer months. She takes families, groups of friends, young people and boatmen on trips, organises trips that are open for everyone and takes people on coastal safaris. Whatever you preference, there is a trip to suit everyone.
For 12 weeks in the spring and summer, Mathilde sets sail with school classes. These trips give the children a real experience of coastal culture. One of our mottos is 'A sailing school camp on Mathilde does something to you and your class'. 
The pupils live together from Monday to Friday in a confined space, and are given lots of exciting challenges. Others choose shorter trips. Schools from e.g. Alvdal, Oslo and Gudbrandsdalen are regulars. The pupils look forward to setting sail on Mathilde!
Museum trips

For four weeks in early spring, Mathilde organises museum trips. Some trips are for school pupils, while others are cultural events that are open to the public. We collaborate with the cultural sector, cultural event organisers and other museums to create an interesting and varied programme. The county musicians in Hordaland, among others, have run a number of programmes on board.
We sometimes also travel outside the county. When we do, we cooperate with the local cultural sector in the area.
Complex history

S/J Mathilde was built by Ole H. Nerhus in Kvinnherad, and was launched in 1884. The new vessel, which was owned by the Nerhus family, was put into operation in 'nordlandsfarten', with the crew travelling to Lofoten and Finnmark to buy cod. The fish was salted, dried and then sold in Bergen and Kristiansund.
In 1889, the boat was purchased by a cooperative society in Jondal, which continued to send her north. In 1918, Mathilde was sold to an owner up north in Svolvær, and then on to Anders Jensen in Lunderøy in Helgeland. The boat went on to have several owners in Nordland, before she was sold to Erik Rolfsen in Kristiansund in 1938, who, among other things, lived on the boat.
Restoration

Following a spell in Ålesund, Mathilde was sold to an owner in Mosterhamn in Hordaland in 1950, where her name was changed to Kari Louise. In 1968, Kari Louise again headed north. Her new owner Leif Andorsen in Svolvær built a new wheel house and installed a 240-horsepower GM engine. She was again sold in 1977, this time to Per Angell from Herøy in Helgeland. After he called it a day in 1982, Kari Louise was put up for forced sale, and she was purchased in 1984 by the newly-established Hardangerjakt foundation in Norheimsund.
Mathilde was repaired and restored as a sailing vessel from 1984 to 1989, and was in many ways the focal point of the establishment of Hardanger Maritime Centre.
When the restoration of Mathilde was completed in 1989, she was put into all-year operation on a programme of summer trips, school camp trips and museum trips.