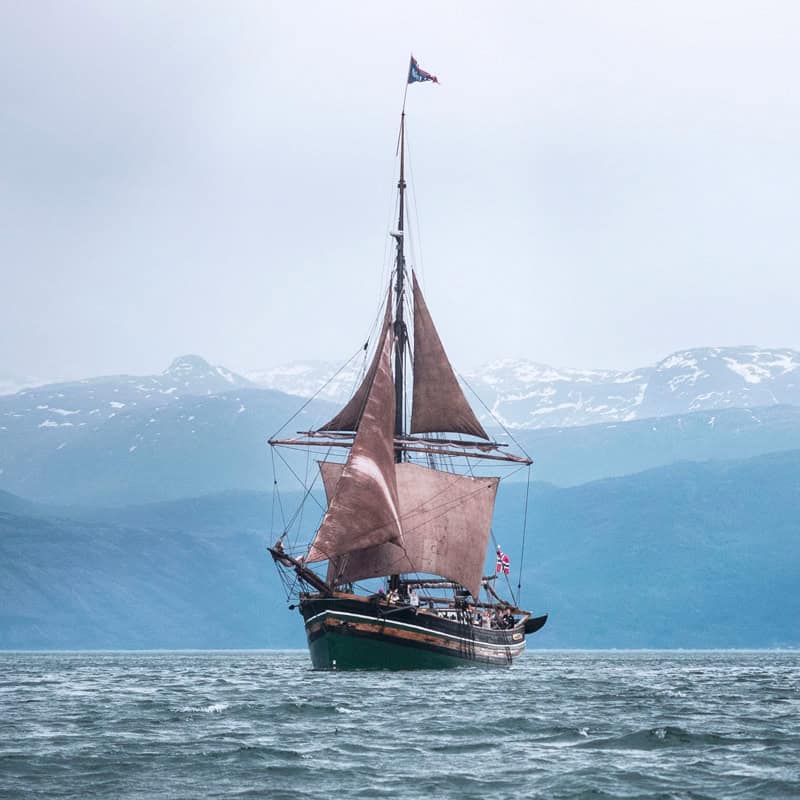 On board S/J Mathilde from 1884, you are guaranteed to have many unique and memorable experiences. Learn knots, sleep in a hammock, and set the sails together with our friendly crew.
Welcome aboard!
Info and booking:
mathilde@hvm.museum.no  / 414 87 528
Summer and school camp trips
For 12 weeks in the spring and summer, Mathilde sets sail with school classes. These trips give the children a real experience of coastal culture. 
The pupils live together from Monday to Friday in a confined space, and are given lots of exciting challenges.
A complex history
S/J Mathilde was built by Ole H. Nerhus in Kvinnherad, and was launched in 1884. The new vessel, which was owned by the Nerhus family, was put into operation in the Northern trade, with the crew travelling to Lofoten and Finnmark to buy cod. The fish was salted, dried and then sold in Bergen and Kristiansund. 
In 1889, the boat was purchased by a cooperative society in Jondal, which continued to send her north. 
In 1918, Mathilde was sold to an owner up north in Svolvær, and then on to Anders Jensen in Lunderøy in Helgeland.
She was again sold in 1977, this time to Per Angell from Herøy in Helgeland. After he called it a day in 1982, Kari Louise was put up for forced sale.
She was purchased in 1984 by the newly-established Hardangerjakt foundation in Norheimsund.
 (that's us!)
Restoration
Mathilde was repaired and restored as a sailing vessel from 1984 to 1989, and was in many ways the starting point of the establishment of Hardanger Maritime Centre.
 When the restoration of Mathilde was completed in 1989, she was put into all-year operation on a programme of summer trips, school camp trips and museum trips.
See a short clip from our restoration work on Mathilde from the late 1980s below: