Michelsen's pleasure vessel
Around the turn of the twentieth century, many prosperous Norwegians enjoyed boating as recreation. Beautiful boats with white sails were a common sight in the waters around Norway's biggest cities.
Inspiration from abroad
By around 1915, it was not uncommon to see long, narrow motor yachts alongside the sailing vessels. The inspiration for these vessels came from the USA and England. Norwegian boat designers, who were generally naval architects, often travelled abroad to further their studies. They brought home ideas for luxurious motor boats made of quality wood. 
The motor cruiser Faun

Faun, a long, elegant and beautifully made vessel, was built by Damsgaards Baatbyggeri og Motorforretning in Bergen in 1916. This enterprise was established by engineer August Moldestad, who had studied shipbuilding in England. The boat was built as a pleasure boat for the son of Christian Michelsen, Norway's first prime minister.
In 1993, the boat was transferred to the Hardanger Maritime Centre. In spring 2005, exactly 100 years after Christian Michelsen led Norway out of the union with Sweden, Faun's restoration was complete.
Specifications M/B Faun

Type: Motor cruiser
Built: Damsgaards Baatbyggeri og Motorforretning, Bergen.
Year: 1916
Ordered by: Shipowner Einar Michelsen.
Overall length: 16.19 metres (53′)

Max width: 3.45 metres (11′ 4″)

Draft: 1.16 metres (3′ 10″)
Building materials: Pine with oak ribs

Call signal: JXDF

Use: Passenger traffic (up to 12 people)
From fishing boat to escape vessel
M/K Vikingen is a good example of a Hardanger cutter. 
M/K Vikingen represents an exciting period in the history of Norwegian technology and fisheries. In around 1915, sails were increasingly replaced by motor propulsion. However, as the motors were still relatively feeble and not entirely trustworthy, boats still needed sails. Nor did people have great knowledge of using motors. Since Vikingen represents two technologies, it is often referred to as a transitional vessel.

Cutters

A cutter is not a boat type that is unique to Norway, having been developed from the east English, sailing trawler and drift-net fishing boat. In the 1800s, English boat builders developed this long, narrow, deep and deft vessel for trawling and drift net fishing in the North Sea, particularly for mackerel. Being able to quickly transport the perishable catch to land was essential.
The introduction of steam engines in the British fishing fleet in around 1900 led to many vessels being put up for sale. The fishermen in Western Norway purchased several hundred 'Englishmen' and used them for fisheries and transport.
However, a need for newbuilds in the Norwegian fishing fleet gradually emerged. The people of Hardanger had long since acknowledged the excellent properties of the 'Englishman'. With this as their basis, they developed their own 'Norwegian' version of this vessel. The Norwegian cutter is distinguished from the English vessel by a more pronounced sheer in the deck and its gently-rounded stern. And while the English cutters were rigged in a particular way, the Norwegian cutter had a typically Norwegian rigging.
Important years in

 

Vikingen's history

1915: Built by Lars B. Hauge in Hatlestrand, Kvinnherad. Originally, Vikingen was rigged as a galleass and had a 16-horsepower Volda-Hein semi-diesel motor.
1938: The hull was heightened, the wheel house was enlarged and a 36-horsepower Samson semi-diesel motor was installed. Sails were hardly used after this.

From 1941, Vikingen was used to help people flee the war via Shetland to Scotland. There, they joined the navy and merchant navy, while Vikingen was acquired by Nortraship and used as a fishing vessel.
1950s: The members of the cooperative society sold their stakes in the vessel to their sons, who ran Vikingen until 1978.
1979: Vikingen was sold to a student in Bergen who intended to use it as a tour boat.
1986: Vikingen sank, and was raised by the pupils at the boat building school in Jondal. The foundation Stifitinga Hardangerjakt Vikingen took over the vessel that year.
1999: Vikingen was launched following many years' restoration work. Vikingen is to be preserved in its original state.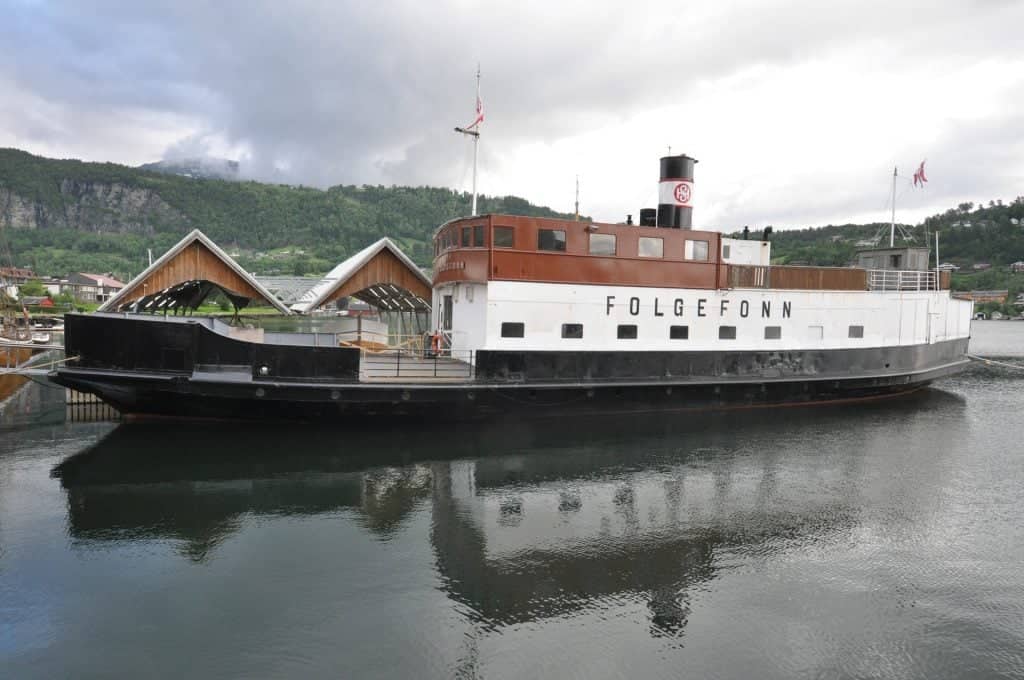 The first car ferry in Hardanger
The car ferry Folgefonn was built at Bergens Mekaniske Verksteder in winter 1937/1938. It was Hardanger Sunnhordlandske Dampskipsselskap's (HSD) first specially-built car ferry. It could take 20 cars and was the biggest ferry in Norway when it was put into operation between Ålvik and Kinsarvik.
In 1979, Folgefonn's time in HSD came to an end. After 40 years' service in the company, the ferry was sold to investors in England. Rumour had it that it was to be used as a nightclub, but the ferry ended up serving as a club house for a boat club outside London.
Hardanger and Voss Museum went on to buy the ferry, and it was towed down the Thames in 2010 and lifted onto a barge. This was how the M/F Folgefonn made her way home to the Hardangerfjord – and she is now set to be restored as part of Norway's cultural heritage.
Specifications

Capacity: 20 cars, 300 people

Length: 119.7 foot

Width: 26.6 foot

Gross registered tonnage: 197

Engine, from 1938: Wichmann 4-cylinder semi-diesel, 300 brake horsepower

Engine, from 1965: Wichmann 2 T 4-cylinder diesel engine, 400 brake horsepower