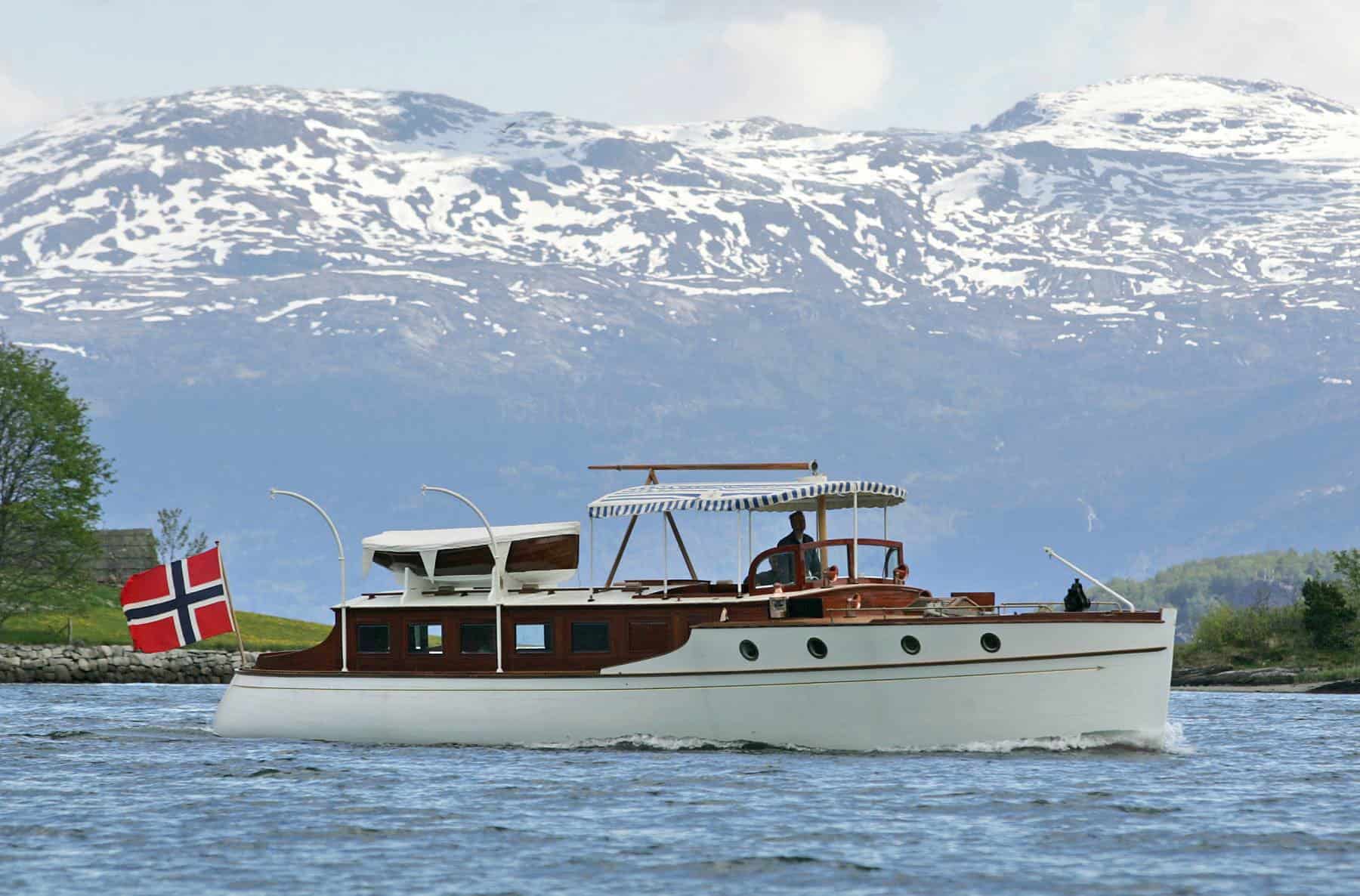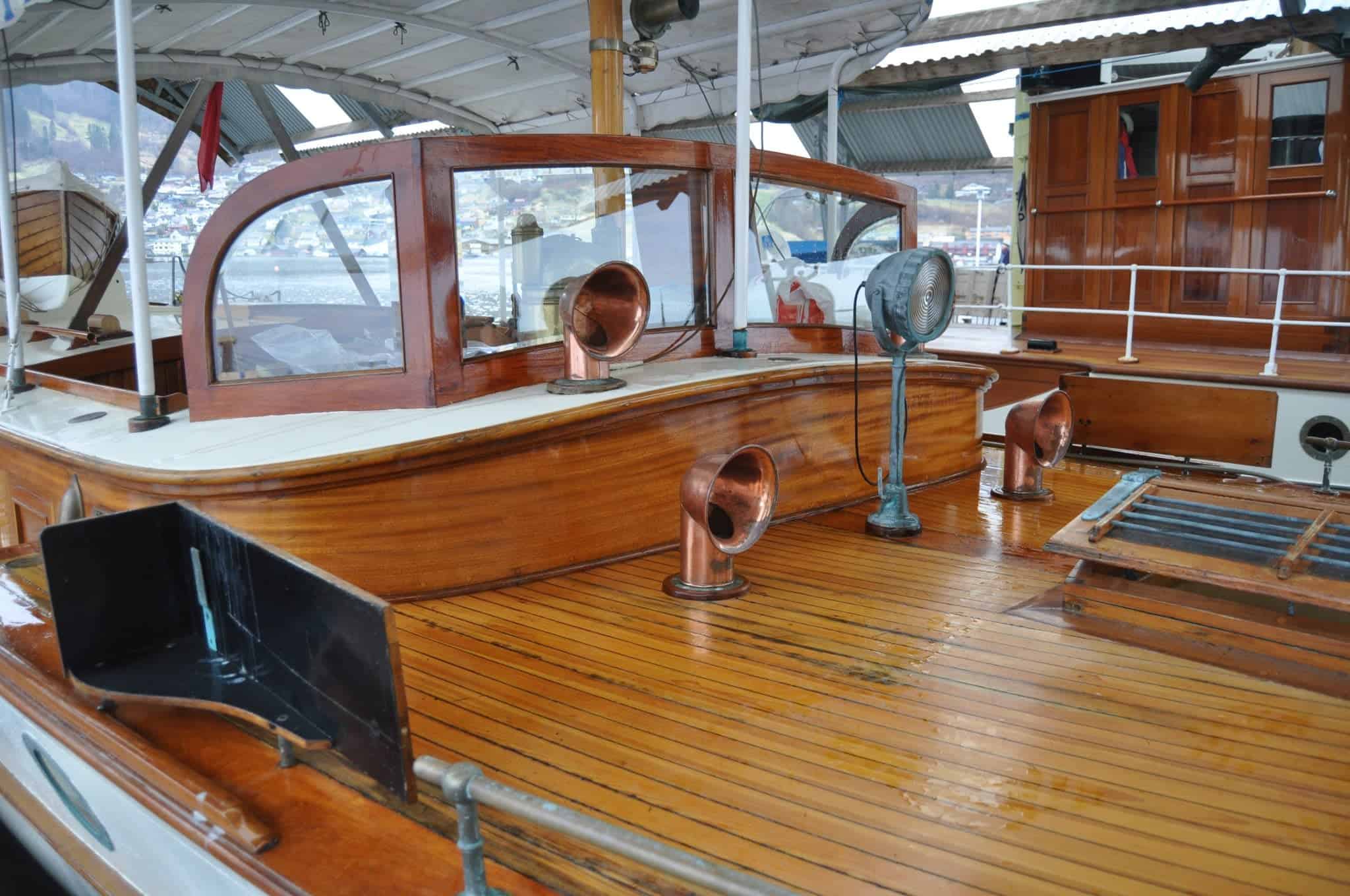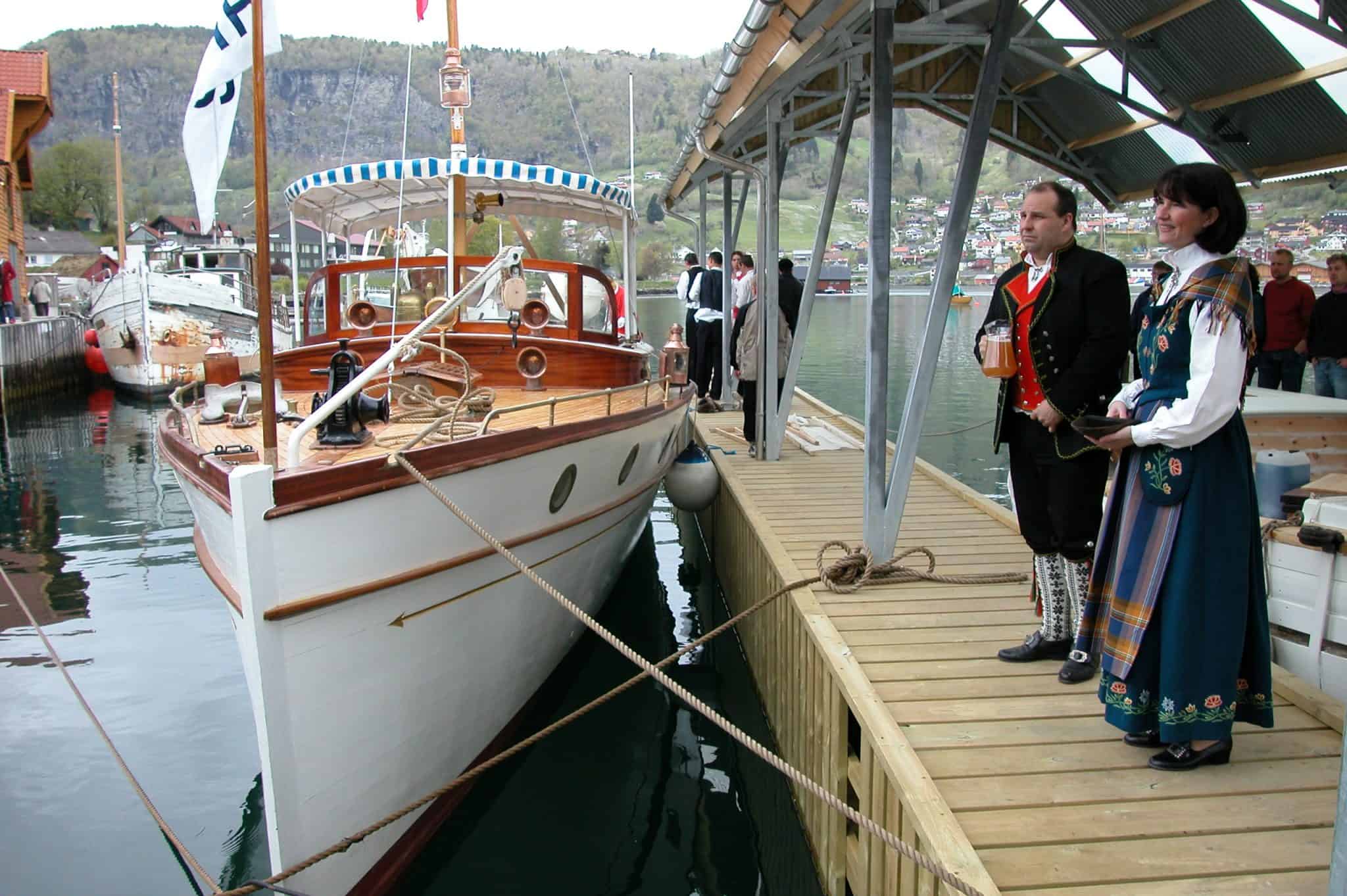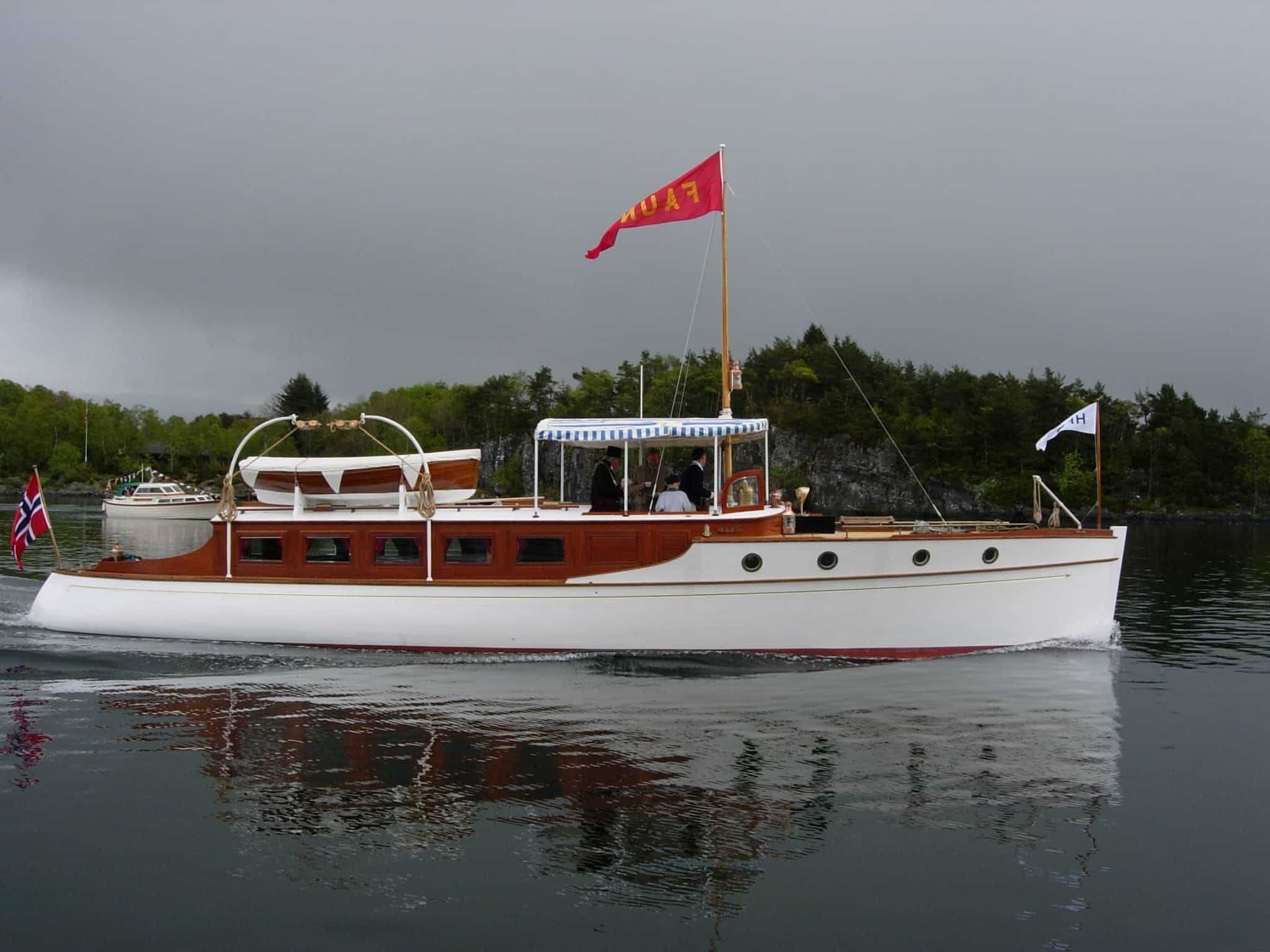 Michelsen's pleasure vessel
Around the turn of the twentieth century, many prosperous Norwegians enjoyed boating as recreation. Beautiful boats with white sails were a common sight in the waters around Norway's biggest cities. By around 1915, it was not uncommon to see long, narrow motor yachts alongside the sailing vessels. The inspiration for these vessels came from the USA and England. Norwegian boat designers, who were generally naval architects, often travelled abroad to further their studies. They brought home ideas for luxurious motor boats made of quality wood. There are two such motor boats at Hardanger Maritime Centre, one of which is the M/Y Faun.
The motor cruiser Faun

Faun, a long, elegant and beautifully made vessel, was built by Damsgaards Baatbyggeri og Motorforretning in Bergen in 1916. This enterprise was established by engineer August Moldestad, who had studied shipbuilding in England. The boat was built as a pleasure boat for the son of Christian Michelsen, Norway's first prime minister. Faun is 52 foot long and originally cost NOK 33,000.
The motor yacht Faun was kept at the Michelsen residence at Gamlehaugen until 1925. The boat then went on to be owned by a number of well-known business people and shipowners in Bergen. In 1955, BKK acquired the boat, and used it in connection with the major power development in Matrefjella. In 1993, the boat was transferred to the Hardanger Maritime Centre. In spring 2005, exactly 100 years after Christian Michelsen led Norway out of the union with Sweden, Faun's restoration was complete. The price tag was around NOK 4.3 million, and it took five years to complete.
Faun has now been restored to its former glory, with a mahogany and velvet interior and bevelled windows. Most of the equipment and fittings from 1916 were intact and were taken into use when the boat's restoration was complete. Those wishing to celebrate an occasion in style can hire and enjoy Faun in its original state.
 Hardanger Maritime Centre hires out Faun with a crew for festive occasions on the Hardangerfjord and in the waters it frequented around Bergen. The boat is suitable for short and long trips, parties and meetings, and has room for 12 passengers. Get in touch if you are interested in a very special experience!
Faun has a great support network, based in the area around Nordåsvatnet lake, where she used to be moored. Every summer, they enjoy using the boat in Bergen. Get in touch if you want an introduction to Faun and the great people around her!
Specifications M/B Faun

Type: Motor cruiser
Built: Damsgaards Baatbyggeri og Motorforretning, Bergen.
Year: 1916
Ordered by: Shipowner Einar Michelsen.
Overall length:……………….16.19 metres (53′)
Max width:………………….3.45 metres (11′ 4″)
Draft:………………………1.16 metres (3′ 10″)
Building materials: Pine with oak ribs
Call signal: JXDF
Use: Passenger traffic (up to 12 people)
Funding contributors:
BKK
UNI-fondet
Norwegian Directorate for Cultural Heritage
Sparebank 1 Vest
Oslo Internasjonale Sjømannshjems Fond
O. Kavli og Knut Kavli´s Almennyttige Fond
Gullfaks leiargruppe
Oslo Internasjonale Sjømannshjems Fond
Kvam parish
Hordaland county authority